About NSS
About University of Mysore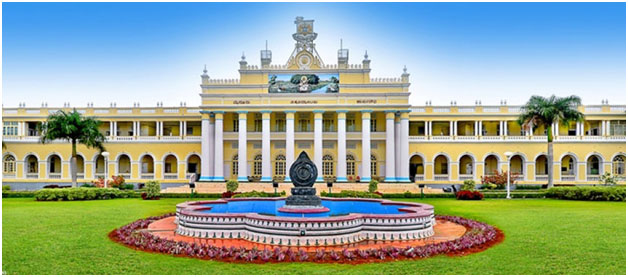 The first University in the state of Karnataka and the sixth oldest in India, the University of Mysore was established in the year 1916 by the Maharaja of Mysore Sri Nalwadi Krishnaraja Wodeyar through munificent gants of land, buildings and financial resources. Some of the greatest minds that this country has seen have been a part of this hallowed institution. We have three Bharat Ratnas; Sir M Visvesvaraya, Founder; Dr.S.Radhakrishnan, the Teacher (Former President of India) and Dr.C.N.R.Rao, the Scientist and alumni and, two Jnanapitha awardees, Kuvempu and Dr.U.R.Ananthamurthy. It is also home to a galaxy of stalwarts in the field of education, administration, arts and sports; the University has earned an international identity for its academic programs and research activities.
With a strong sense of commitment to social justice and equity the University provides access to people from all walks of life. The University of Mysore has always upheld the values of critical thinking, tolerance and open debate. It has a string of laurels to its credit in the 99 years of its existence. The four districts, Chamarajanagara, Hassan, Mandya and Mysuru are now under the jurisdiction of the University of Mysore. It has four constituent colleges and 216 affiliated colleges offering undergraduate programs, 58 recognised research centres, spread over different parts of the country and abroad.
Circulars and Upcoming Events
Right now, there are some problems with connnecting to events.
Visit this page again, some time later.
Thank you, Site Administrator.
Office of the Programme coordinator
National Service Scheme
University of Mysore
NSS Bhavan
Sahukar Chennaiah Road
Sarsawathipuram
Mysore - 570 009
Phone: 0821 - 2419326
Email: nssuommysore@gmail.com
uomnssmysore.facebook.com For Location,
Scan the below QR Code: