Prasaranga
Puranama Chudamani Online Release on 21-10-2020 
Prasaranga, University of  Mysore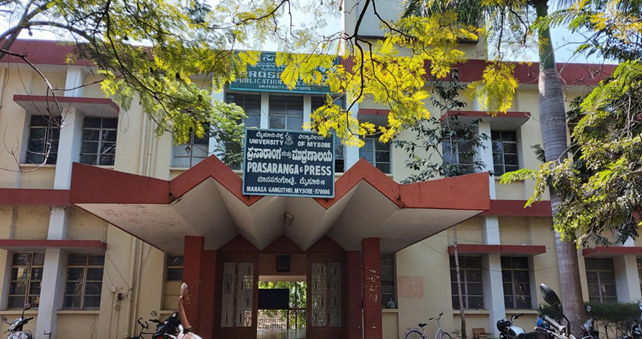 PRASARANGA, the publication Directorate of the University of Mysore is a unique organization that was established in the year 1933. It has put into practice the invaluable direction given by RAJASHREE NALVADI KRISHNARAJA WODEYAR right from the inception. The Maharaja said: "Our University will also be engaged in diffusing knowledge among that section of my people, who for various reasons, may not be able to participate in the courses and disciplines appointed for the regular examinations. It is with this object that the scheme provides for the establishment of extension and publication departments. I trust that the University will soon be able to develop fully this side of its activities with due regard to the practical needs of the country".

Thus, the Extension lecture series was started with the idea of taking knowledge of the world to every doorstep of the common man. 
Activities
Prasaranga has published extension lecture series, textbooks and books under 'Commission for Scientific and Technical Terminology' (CSTT), books for 'Gandhi Bhavan', 'Kuvempu Institute of Kannada Studies', 'Oriental Research Institute', 'Basaveshwara Adhyayana Peeta', 'Ambedkar Studies', 'Babu Jagjeevan Ram Studies', 'Centenary Celebrations', etc., five journals in both kannada and english, publication of books under 'R.L.Narasimhaiah Memorial Prize', holding special endowment lectures that form the bulk of Prasaranga activities.
Christening of Prasaranga
PRASARANGA was named by poet laureate of Karnataka and Jnanapeeta Awardee Dr. Kuppalli Venkatappa Puttappa, popularly known as Kuvempu, who was the Vice-Chancellor of the University of Mysore (1956-1960). Prasaranga was a dream comes true of Rashtrakavi Kuvempu. During his period 'the extension lectures' multiplied several folds covering almost all areas of knowledge and they were brought out in book forms.
Prof. G. Hanumantha Rao, (1933-53) was the first Secretary of the then formed 'extension lectures committee' followed by Prof. Bharatharaja singh (1953), Prof. U. K. Subbarayachar (1953-54), Prof. De. Javare Gowda (1954-57), Tha.Su. Shamaraya (1957-60). The First was Director Prof. P. Mallikarjunappa (1960-64) followed by Dr. Prabhushankara (1964-81), Sri. K.T. Virappa (1981-94), Prof. H.M. Channayya (1994-95), Prof. K. Kempe Gowda (1995),  Prof. Aravinda Malagatti (1995-2000), Prof. Lakshminarayana Arora (2000-06), Prof. R.V.S. Sundaram (2006-07), Prof. C.S. Ramachandra (2007-10), Prof. N.M. Thalavar (2010), Prof. C. Naganna (2010-15). Prof. M.G. Manjunatha is the present Director.
General Books
Although the publication of 'extension lecture series' started by Prof. G. Hanumantha Rao, was the major preoccupation of Prasaranga, the activities have gone beyond this boundary to include the publication of a whole lot of other series, such as ; 'Grihasaraswathi Series', 'Textbook Series', 'Kannada Book Series', 'Special Lecture Series', 'R.L. Narasimhaiah Memorial Prize Series', 'Sir K.P. Puttannachetty Endowment Publication Series', 'CSTT Books' and so on. The Publication Committee headed by the Hon'ble Vice-Chancellor meets periodically and approves the submitted manuscripts for publication process. Further, the experts opinion is taken for the final approval of the submitted manuscripts.
Bharathiya Kavya Mimamse, Kannada Kaipidi, Amarakosha, Purananama Choodamani, Sushruta Samhita, Vachanadharmasara, Haridasa literature, Kannada Dictionaries and other important Kannada Publications have enhanced the stature of Prasaranga.
The cultural Heritage if India - ಯುಗಯಾತ್ರೀ ಭಾರತೀಯ ಸಂಸ್ಕೃತಿ (5 Volumes)
An encyclopedia of Indian culture that narrates the story of how the ancient Indian civilization and culture have flourished in a continuous manner down the ages. History, Philosophy, Politics, Literature and Sociology are some of the areas encompassed in these volumes and hence they are a store-house of inputs for the researchers in these fields of inquiry.
English - Kannada Dictionary
The English - Kannada Dictionary is undoubtedly an intellectual adventure of a rare kind and the University of Mysore has earned the goodwill of the scholars as well as the common people through the publication of this Dictionary. This Dictionary is a result of three decades of hard work by a group of highly dedicated scholars. Hence, it is possible, a like of which work is hard to trace in other languages of India.
Bibliography
This is a descriptive bibliography covering all the printed works in Kannada starting from 1817. The information has been gathered pertaining to about forty thousand books from hundreds of libraries and from innumerable private collections. This information is published in 9 volumes.
Journals
Prasaranga is bringing out five Journals: two in English and three in Kannada. 'mySCIENCE' and 'mySOCIETY' deal with Science and Humanities subjects respectively. 'Vijnana Karnataka'. 'Manavika Karnataka', are their counterparts in Kannada. 'Prabuddha Karnataka' is dedicated to Kannada language, literature and culture and it is one of the oldest literary journals in the State, dating back to 1919.
Commission for Scientific & Technical Terminology (CSTT)
CSTT is a wing of Ministry of Human Resource Development, Government of India. It is granting funds for the publication of college and University level textbooks and books on Technical Terminologies in the mother tongue. So far we have published some 64 books under the scheme.
Book Sales
The amount accrued from the sale of books has touched has been more than 50 lakhs. (₹.48,66,466-00 during 2014-2015, ₹.50,09,058-00 during 2015-16, ₹.51,86,885-00 during 2016-17, ₹.49,32,070-00 during 2017-18, ₹.41,53,617-00  during 2018-19, ₹.35,81,041-00 during 2019 April to September.) The university teachers and students will have a rebate of 25% on the books of their choice. And all students avail 10% discount on text books. Shortly The Prasaranga publications sales will be online.
Book Exhibition
Apart from regular sales on working days in the Sales Section of Prasaranga, a large quantity of books are sold in some of the major exhibitions held at different places spread all through the year. These exhibitions take place at annual All India Kannada Literary Conference, at Government of Karnataka Book Authority Exhibition, Alva's 'Nudi Siri' Cultural Festival (Mudabidire), at 'Bahuroopi Theatre Festival' (Mysore) and conducting exhibitions in State and National level Seminar's. We are sold at a rebate of 50% in the month of Ugadi, Ganesh Chaturthi, Dasara & Deepavali festival period. The whole of November is declared as 'Rajyotsava Month' and with a few exceptions all the books are sold at a rebate of 33.33% throughout the month.
Centenary Celebration Publications
Prasaranga was involved in sales activity of the centenary celebration publication that was brought out to mark the occasion. The university of Mysore on completing 100 years of its inception (1916-2016), held one year long celebrations in 2016 with much pride by conducting various academic programmes. On this occasion the 'Centenary Celebration Committee' published 12 books, covering the history of the University, a coffee table book, its academic achievements and the Convocation address in both Kannada & English languages.
 
Best Practices
Apart from the academia the Prasaranga is in constant touch with the general public as it has been publishing books of general nature all along. The people from varrious villages come to buy books. Prasaranga has taken measures to provide a 'Sales Outlet' at the city centre (Near Ramaswamy circle), which is an easy access in enabling the public to buy books without any hassles.

Accomplishments
a) More than 1000 Reference books of great value in Kannada have been published
b) Our books reach the public / students - Research scholars / teachers
c) Dissemination of knowledge through books
d) Seminars are conducted from time to time
e) 50 Extension Lectures were organized in 2014-19. These lectures have reached some 25,000 people. They were brought out in book form. 5000 copies were printed of each lecture. Thus we have 2,50,000 books out of these Extension Lectures.

Textbooks- an Assured Revenue Model
Major publication are  the language textbooks (Kannada, English, Sanskrit and Hindi) for Under Graduate / Post Graduate Course and during 2014 - 2019 June - July & December - January (semester wise). We have sold more than  5,00,000 copies in all. This has been an example of 'Assured Revenue Model'.

Future Plans
Digitization , publication & journals of all books .
Bringing online version of University journals along with print versions
Publishing textbooks in different subjects at degree level.
Promoting young writers in Kannada with a special emphasis on writing books in area of Science and Technology, Management and such other professional fields.
Designing Mysore University Prasaranga e-portal and hosting on Cloud Computing
Reprinting of all books that are of  great value and in demand.
For more information contact
Director, Prasaranga
University of Mysore, Manasagangotri
Mysore – 570 006
Email: directorprasaranga@rediffmail.com
Phone Nos. 2415311, 2419387, 2419370