Facilities/Research Area
OTHER SIGNIFICANT ACADEMIC ACTIVITIES AND RESEARCH PUBLICATIONS KANNADA COURSE FOR FOREIGNERS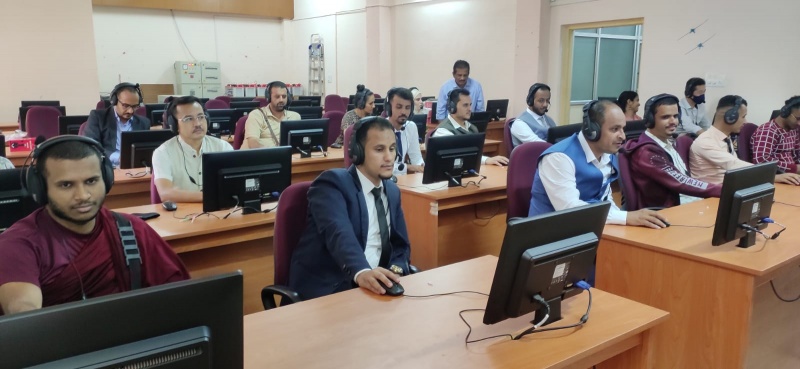 The Programme of teaching Kannada for foreigners was started in 1968-69 in the Institute. Since then foreigners from America, Russia and other countries are coming to the Institute to learn Kannada during various academic years. They are taught to write and speak Kannada independently within a period of six months.
LANGUAGE LABORATORY-cum-MULTIMEDIA LABORATORY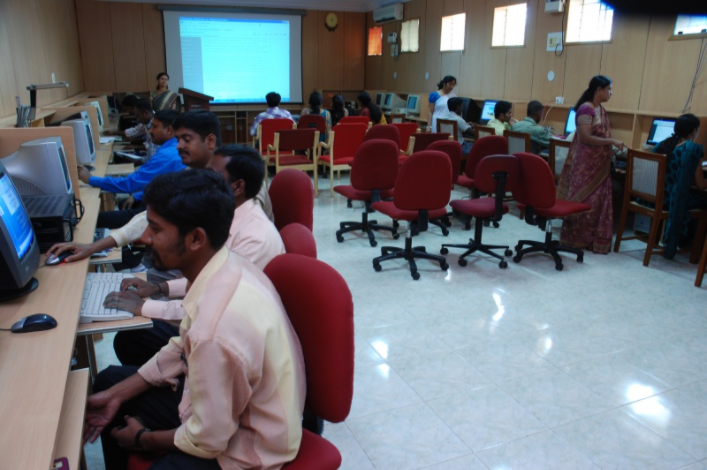 A language laboratory has also been established in the Institute to impart language training to Non-Kannada speakers as well as foreigners. This has also been of good help for researchers in languages and linguistics. And also a Computer lab has been established in the Institute for the Academic research, teaching and training.
RESEARCH FACILITIES
At present One hundred and thirtysix candidates are working for their Ph.D. Degree in the Institute pursuing their research work in various subjects like Kannada language and literature, Linguistics, Folklore, South Indian Studies.
ACADEMIC RESEARCH AND PUBLICATION ACTIVITIES OF THE INSTITUTE EDITING SECTION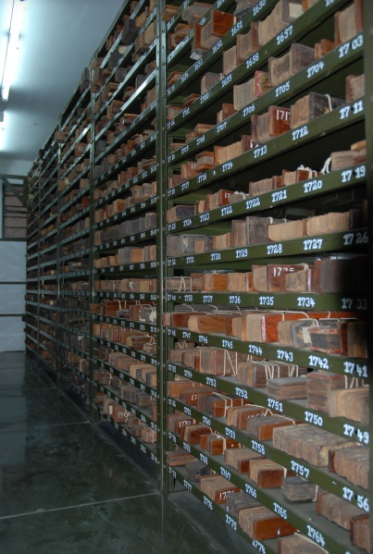 The Editing Section of the Kuvempu Institute of Kannada Studies is actively engaged in the publication of old and rare manuscripts, copying the available manuscripts, identifying the varieties of texts to arrive at an authentic version of the work. A scholarly research-oriented introduction regarding the author and his works would be accompanying the text, which would ultimately add to the study of Kannada Language and literature.
About 160 books have been brought by this section which has a collection of over 8000 manuscripts. There are also about 1324 manuscripts rendered into microfilms. There are several palm leaf manuscripts as well as those written of very old paper.
TRANSLATION AND TEXTBOOK BUREAU
In order to implement Kannada as the medium of Instruction at the University level, a Translation and Textbook Bureau was established in the Institute of Kannada Studies in 1966-67. In 1969 a centrally-sponsored scheme for publication of books in regional languages was implemented.
Besides the Institute is extending all possible help to the Government of Karnataka in the process of implementation of Kannada as the Official Language. The Bureau is also contributing by way of providing Technical Terms in Kannada pertaining to various subjects to the Council of Scientific and Technical Terminology of the Government of India.
KANNADA ENCYCLOPAEDIA SECTION
Kannada Encyclopaedia project is one of the prestigious projects taken up by the University of Mysore. 14 volumes have been published. As a sequel to this publication the Government sanctioned another project of publishing 30 volumes of Subject Encyclopaedia. So far six volumes of Subject Encyclopaedia have been published till date. The revision and reprint of General Encyclopaedias is in progress.

Conversion of Fourteen Volumes of General Kannada Encyclopaedia into C.D.
In the year 2002 Kuvempu Institute of Kannada Studies, Kannada Ganaka Parishat, Bangalore have collaborated and produced 14 Volumes General Encyclopaedia in C.D. form. The updated C.D. already released in the year 2005. This is the significant work of the Encyclopaedia section.
EPIGRAPHIA CARNATICA SECTION
Karnataka is abundantly in inscriptions. It has been said that Kannada is the language having the highest number of inscriptions next to the Tamil. It was B.L.Rice who conceived the idea of collecting valuable inscriptions. In the recent past the Government of Karnataka sought the Institute of Kannada Studies to shoulder the responsibility of bringing out the revised edition of the Epigraphia Carnatica volumes in 1970. So far the institute has brought out 15 volumes.
HARIDASA SAHITYA SECTION
Haridasa literature marks an important epoch in medieval Kannada literature with its bearing on the refinement of social life as well as literary excellence. With the assistance of the University Grants Commission collection, editing and research under the project began in July 1968. So far 330 valuable manuscripts have been brought to the Institute. Besides hundreds of Kirtanas have been recorded and preserved in the section which facilitate studying different singing and reciting ways of these Kirtanas in the various parts of the land. The Kirtanas of Kankadas is in press.
FOLKLORE RESEARCH AND MUSEUM
Karnataka is fairly affluent from the point of view of folklore and hence study of folklore, folk literature and research has been one of the important academic activities of the Institute. Scholars and aspirants from the section travel to various places and collect folklore materials and items from the people. Till date about 68 books have come out from this section. The folklore museum, which was established in 1968, is a centre of attraction in the heart of the campus. Over 6000 folklore items, diligently collected and scientifically classified under more than 20 heads have been displayed in the museum. The museum enjoys worldwide reputation in the Folklore circles and has won great appreciation by several dignitaries and foreigners.
LIBRARY OF THE INSTITUTE
A unique library endowed with books useful for teachers, researchers and students is also a pride possession of the Institute. The library contains several valuable and very rare books also in this library. Collection of Encyclopaedias of different languages is a specialty here. This reference library equipped with more than 32,000 books.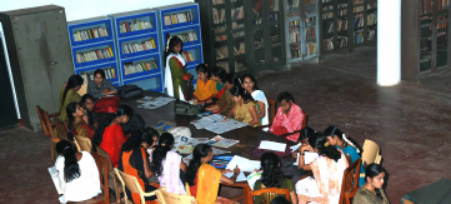 PROJECT ON HISTORY OF KANNADA LITERATURE
The project envisages to bring out a comprehensive History of Literature Pertaining to Ancient, Medieval and Modern Kannada literature in 10 volumes. The first volume came out in 1974. 7 volumes have come out till date. The Fifth volume comprises of three parts of which the last one part is going to be published shortly.
COLLABORATIVE PROJECTS OF DEPARTMENT OF KANNADA AND CULTURE
GOVERNMENT OF KARNATAKA
The Kings, their Dynasty's of Karnataka : An inscriptional Volume (Completed)
Old Kannada Manuscripts : Preservation, Documentation & Computation, Publications ( in press)
Subject wise books prepared based on the articles published in the Kannada Encyclopedia – 14 Volumes (100 Books Completed)
Translation of Subject Encyclopedia: Karnataka Samputa (Continuing)
Dictionary of Technical Terms in Kannada Literary Criticism (Continuing)
Etymological Dictionary of Foreign words in Kannada (2 Volumes Complited)
Volumes of Honna Kogile (A brief History of Dalit Literature Complited)
Multificial Documentation Texfealation and Translation of Manteswamy Epic
UGC : 12 Lakh
Principal Investigator : Dr. Ambalike Hiriyanna
Project Fellow : Dr. P. Mani (UGC Project Comleted)
COMPLETED PROJECTS DURING 2014-21
1. Dalitha Pragne Seemaatiita Kannada Saahitya Charitre - Honna Kogile - 6 volumes published
2. Karnataka Samputa Volume - 1, Translated into English and published.
3. General Encyclopaedia Volume 3, 5, 7, 8 & 9 revised and reprinted.
4. Dravidian Wordnet: an integrated Wordnet for Telugu, Tamil , Kannada and Malayalam (DIT, Prof. C.S. Ramachandra, G. Principal Investigator and Prof. Hemantha Kumara, Principal Investigator - Incharge)
5. Indigenous knowledge Oral tradition of Schedule Caste & Schedule Tribe Women : Representitive Models of Hassan, Mandya, Mysore, Chamarajanagara Districts, Karnataka (UGC - Prof. N.K. Lolakshi, Principal Investigator)
6. DOBES Project on "Kurumba Languages of Nilgiris in South India" funded by Volkswagen foundation, Hannover, Germany (Prof. B.K. Ravindranath worked as the team member in this project)
7. Documentation of endangered languages (SPPEL) : SIDDI (MHRD, CIIL, Mysuru, Prof. B.K. Ravindranath, Principal Investigator)
8. Minor research project on "Eravara Moukika kaleya dakalikarana (University of Mysore, Prof. B.K. Ravindranath, Principal Investigator)
ONGOING PROJECTS
1.SAP Project-UGC. History of Kannada Folklore and History of Modern Kannada Criticism.
2. Subject Encyclopedia on medical science completed and in print.
3. Subject Encyclopedia on Anthropology, Botany, Fine Arts, Theater, Information & technology in progress.
4. General Encyclopaedia Volume 10 & 13 under revision.
CHAIRS OF THE INSTITUTE :
1. KUVEMPU KAVYADHYAYANA CHAIR
Prof. Pradhan Gurudatta
Visiting Professor (at present)
Mob : 9449805538
Prof. Prabhushankara, Prof. H Thipperudraswamy, Prof. G S Shivarudrappa, Prof. S M Vrishabhendraswamy, Prof. G H Nayak, Prof. C P Krishnakumar, Prof. H J Lakkappagowda, Prof. Pradhan Gurudatta, Prof. K Marulasiddappa, Prof. Ramegowda, Prof. K S Bhagavan, Prof. D.K. Rajendra. Prof. O.L. Nagabhushanaswamy, Prof. C.P. Siddashrama, Prof. N. Borlingaiah.
2. SREE BASAVESHWARA SOCIAL REFORM RESEARCH & EXTENSION CENTRE
Prof. Chandrashekaraiah
Visiting Professor (at present)
Mob : 9342199151
Prof. Maleyuru Guruswamy and Prof. Baraguru Ramachandrappa
3. SRI P R THIPPESWAMY CHAIR
Prof. P.K. Rajashekar
Visiting Professor (at present)
Mob : 9448938563